Plaza de la Paz, Guanajuato
The Plaza de la Paz is the main administrative centre of Guanajuato and is at the heart of the city.
The narrow triangle shaped plaza is boarded along two edges by fine examples of 18th century colonial architecture with the magnificent yellow Basilica of Guanajuato dominates the third side.
Plaza de la Paz Tourist Information
Tourists (and many locals) consider Jardin Union the heart and soul of Guanajuato but administratively and historically the Plaza de la Paz was the Plaza Mayor (Main Plaza).
The name of the Plaza de la Paz was converted from Plaza Mayor in 1903 during the inauguration ceremony of the Monumento a la Paz statue.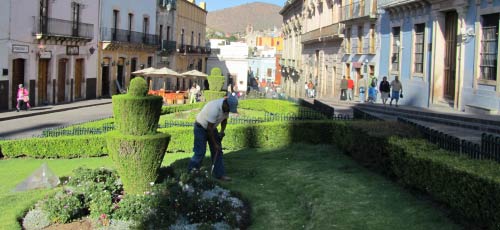 The Plaza Paz
This conveniently meant that the Monumento a la Paz (Monument to Peace) was located in Plaza de la Paz (Square of the Peace) but unknown to all was that Mexico in just 7 years would be ravaged by 10 years of civil war, (Mexican Revolution) and peace would be a distant memory.
In the centre of the Plaza de la Paz is a small ornamental garden with a grand bronze figurine celebrating pre-revolution peace within Mexico.
Why is the Plaza de la Paz Guanajuato so Important?
The Plaza de la Paz during the era of the Spanish rule was a centre for government bureaus and the state legislative centre, one of the primary government organisations was the Real de Minas de Santa Fe de Guanajuato which managed the mining operations in the state.
The most notable historical event to occur in the Plaza de la Paz was that, Benito Juarez, declared Guanajuato state free from colonial rule and even more surprisingly the capital of Mexico.
Later after Mexican independence the buildings were occupied by nobles and the moneyed of Guanajuato.
These wonderful colonial architecture buildings today still retain their elegance with the lower levels converted into restaurant cafes and shops.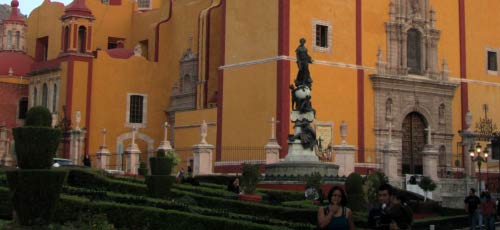 The Plaza Paz in front of the Basilica Guanajuato
The monument in the centre of the Plaza de la Paz was constructed to remember the centenary of the end of Mexican war independence and was inaugurated by the president Porfirio Diaz in 1903.
The main statue is cast out of bronze and the base is carved from white marble the whole piece was designed by the Mexican artist Jesús Contreras.
Of the three side of the Plaza de la Paz two are pedestrianized with café and restaurants covering wide swaths of the pavement making the area popular with tourists at lunch and afternoons.
The area is a great place to relax as the square is surrounded by some fantastic buildings including the visually striking basilica which is complimented by the pastel shades of the colonial residences.
Guanajuato Mexico Tourist Guide Navigation