Jardin Union Guanajuato Guide
The Jardin Union in Guanajuato is the heart and soul of the city and home to the city's best bars and restaurants.
At night there is an energetic and fun atmosphere as Mariachi bands and performing students entertain the restaurant patrons.
The Jardin Union is the place to start your evening but the great food, free-flowing drink and never-ending entertainment may mean that your night ends there too!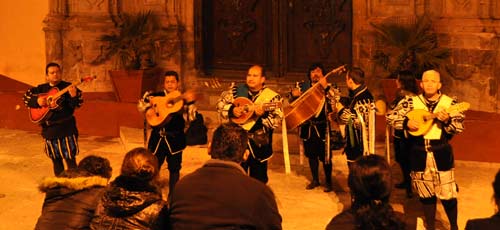 Students performing classic Mexican guitar and shows in the Jardin Union
Jardin Union, Guanajuato Tourist Information
The Jardin Union, Guanajuato is a triangle shaped plaza that is opposite the San Diego church.
Two of the sides are lined with restaurants, bars and cafes and the third side opens on to the De Sopena street. The most noticeable feature of the Jardin Union are the elegant square cut trees which provide shade and a touch of greenery to the centre of Guanajuato.
The Jardin Union is a tasteful mixture of fine restaurants and bars that provide open air seating overlooking the central bandstand.
It must be noted that these restaurants tend to be the most expensive in Guanajuato but the bars are reasonably priced.
The Jardin Union, Guanajuato is perfectly safe all night long and unlike in Mexico City there is no need to be wary of strangers or fear of petty crime.
Jardin Union Mariachi Bands and Performers
Mariachi bands will perform a traditional song for approximately $50 and most nights there are three or more bands competing for customers.
The Mexican tourists adore this classical sound, so you are guaranteed to hear a few renditions of the same songs paid for by over enthusiastic Mexican visitors.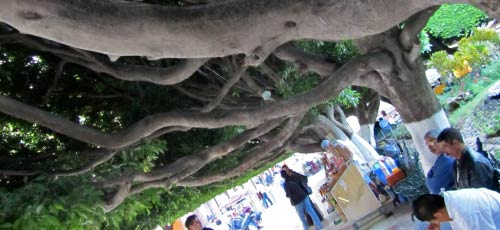 The cooling shade of the trees
Later during the night the more drink focused establishments provide singers and their own entertainment.
The steps of the San Diego Church is a popular place for students to perform with classical Mexican guitars and create fast pace dancing songs. Throughout the night the street hawkers sell trinkets, artists sell portraits and fire jugglers, well, juggle fire.
Jardin Union Trees
All three sides of the Jardin Union, Guanajuato are under the cooling permanent shade of the Indian Laurel trees which creates a natural canopy around the plaza.
These trees have been wonderfully trimmed so that they form a square box running around the entire perimeter of the Jardin Union.
When the plaza is viewed from the El Pipila viewpoint it appears as a green oasis in the centre of the yellow and orange city. These trees were originally planted in 1836 and by 1860 had become the main recognizable feature of the square.
Guanajuato Mexico Tourist Guide Navigation