Mexico City to Guanajuato Bus
Guanajuato is a charming and traditional city in central Mexico. The city contains numerous great tourist attractions and has a lively and social atmosphere that will appeal to almost all tourists to Mexico.
Mexico City and Guanajuato are connected by an inexpensive, safe and reliable bus service and this is the recommended means of travel between the two cities. This guide will provide an overview of the Mexico City bus to Guanajuato and includes fares and bus station information..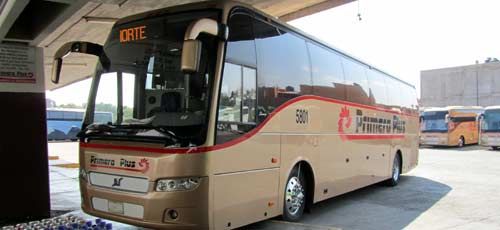 Deluxe travel from Guanajuato to Mexico City
Mexico City to Guanajuato by Bus Overview
Guanajuato is located in the foothills of the "Sierra Madre Oriental" mountains, 370km northwest of Mexico City. The route travels along well-maintained national highways that pass through the barren and arid landscapes of central Mexico. All buses to Guanajuato depart from the "Autobuses del Norte" (North Bus Station) in Mexico City and in Guanajuato the bus station is much smaller, located on the outskirts of the city. The typical Mexico City-Guanajuato bus journey takes approximately 5 hours.
Guanajuato to Mexico City Bus Companies
There are two bus companies, which provide express services between Guanajuato and Mexico City: ETN and Primer Plus. The buses operated by ETN (www.etn.com.mx) carry fewer passengers giving visitors more legroom but the tickets are approximately 20% more expensive. Primer Plus buses also provide a first-class service (www.primeraplus.com.mx) but carry more passengers per bus. All buses have toilet facilities on board. A single ETN fare costs $540.00 pesos and costs $450.00 pesos with Primer Plus.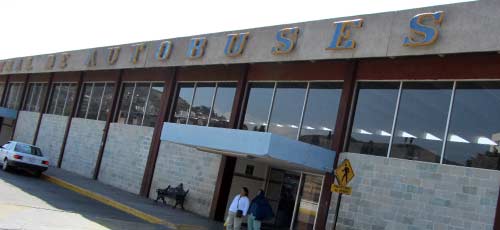 Guanajuato bus station, certainly not the most architectural stunning building
Both companies provide clean, safe and efficient services and there is not much to separate either. The main deciding factor is based on departure time and availability of seats. There are 10 services daily between Mexico City and Guanajuato and it is recommended to pre-book tickets. For the exact timetable view the respective websites as there are frequently variations to timetables. Both companies have ticket sales offices in the bus stations.
Bus Stations
The Mexico City "Autobuses del Norte" Bus Station is a vast complex, which resembles more of an airport terminal than bus station. The bus station is permanently busy but does provide good facilities and it is possible to pass through here with minimal Spanish spoken. Buses to Guanajuato depart from Gate 1 (Sala 1), which is to the right of the main entrance. "Autobuses del Norte" is safe, but do be careful with luggage and wary of pickpockets.
Generally few visitors experience difficulties navigating through the bus station. For onward travel, prepaid taxis should be hired from the kiosk in the main lobby and not hailed from the street. The level of security at both bus stations is very high with all bags going through x-ray scanners and all males searched.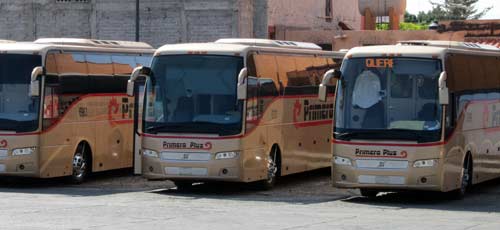 Guanajuato to Mexico City buses
Guanajuato's bus station is much smaller and is positioned outside of the city limits, as the intercity buses are unable to travel through Guanajuato's tunnels. The first impression of Guanajuato from the bus station can be very disappointing as the main historic centre is hidden behind a set of hills.
Visitors can travel to central Guanajuato from the bus station by taxi or local buses. The local bus terminates at the western edge of the city, so it is recommended to hire a taxi. Guanajuato taxis are not metered and the fare will cost approximately $50.00 pesos
Difficulties With The Mexico City-Guanajuato Bus Services
The bus services between Mexico City and Guanajuato are comfortable and safe, but visitors may experience challenges actually catching the bus from Mexico City. The "Autobuses del Norte" is only 8km north of the Zocalo, but traffic in Mexico City is always awful. Always leave plenty of time to catch the bus.
Guanajuato Mexico Tourist Guide Navigation