University of Guanajuato
Guanajuato, since the early years of the Spanish colonization of Mexico, has always been a centre of education and study. Guanajuato is a young lively city that has a vibrant social atmosphere and these characteristics originated from the large student population which attends the renowned university.
The main campus building of Guanajuato University is a block to the north from the Basilica of Guanajuato and here students can be found all day loitering on the many steps to the main entrance wait for lessons.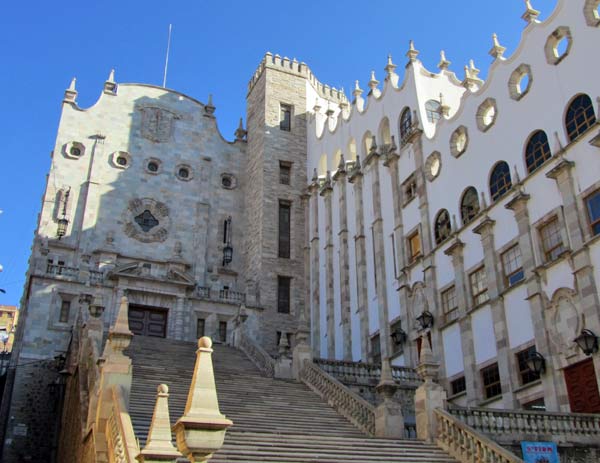 The many step entrance to the University of Guanajuato
The main building campus building caused controversy when it was constructed during the 1940s first because of the design which stands out from the bright yellows of Guanajuato and second that it incorporate an important church, Templo de los Hospitales. The 16th century church was significant as it was the only constructed purely for the ingenious population of Guanajuato, the church still remains but is contained within the main campus building.
Tourist Guide about the University of Guanajuato
Visitors who pass the main university building are often stunned by the 133 steps leading to the main entrance, but luckily for the students this is rarely used and there are other entrances. The central university building houses the dean's office, administrative sections and a couple of the undergraduate departments. The entire university is spread over many sites and has a total student population of 21,000.
The origins of the university are intertwined with the Jesuits who constructed their mighty church adjacent to the original university campus. The Jesuits key belief is in education and the Hospice of the Holy Trinity was opened to the population of Guanajuato on 1st October 1732. In 1767 the Jesuits were expelled from Spanish lands and the college remained abandoned for 18 years.
Guanajuato Guide Navigation
Intro

Travel & Tales

Main Sights

Religious Sights

Other Sights

GuanajuatoMexicoCity.com , with 150 pages about Mexico if its not here it's not worth doing!
The colourful Basílica of Guanajuato
The grand churches of Guan
This was traditional Mexico...
Cristo Rey on top of the mountain