Iglesia de San Diego, Guanajuato
The Iglesia de San Diego (Church of Saint Diego) boarders the third side of the Jardin Union. As the church stands next to the impressive Teatro Juarez many visitors pass by without entering the fine church or even noticing the fine stone carving on the exterior façade.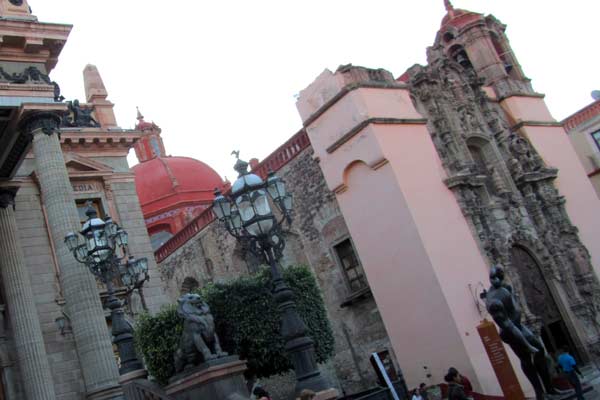 The Iglesia de San Diego in central Guanajuato
At night the steps leading down to the main entrance are a popular location for artists and musicians to perform.
The front of the church follows the style commonly seen within colonial mining towns in Mexico of the Churrigueresque styled façade, which involves elaborate and extravagant stone carving around the main portal.
For the Iglesia de San Diego the stone used for the carving is red sandstone which has a slight pink appearance and the stone carvings date from 1780.
The original church was badly damaged by a massive flood which flooded Guanajuato, the monastery which was adjoined to the church was completely destroyed and was never rebuilt.
The Iglesia de San Diego was restored between 1780 and 1784 by the Count of Valenciana who was one of the great silver mining barons of Guanajuato.
Inside the church of Iglesia de San Diego hang religious 18th century paintings and gruesome statues of the death of Jesus.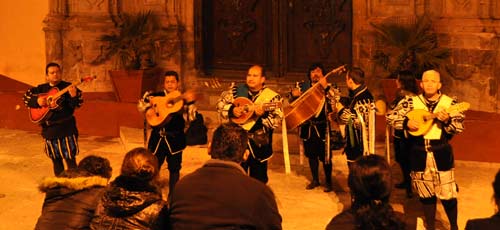 Students performing classic Mexican guitar and shows in front of the San Diego church
During the 19th century the interior was vastly remodeled and the gilded altarpieces were replaced by neoclassical styled.
As the main portal is below the ground level of the Jardin Union the small courtyard makes for a impromptu arena from which musicians perform callejoneadas during the evening to excited crowds of tourists and visitors.
Guanajuato Mexico Tourist Guide Navigation