Guanajuato Bus Station
Guanajuato bus station is the point of access for most visitors to the city and is very easy to arrival at or depart from. As all of Guanajuato's central roads pass through the complex tunnel network the access is totally unsuitable for the intercity coaches.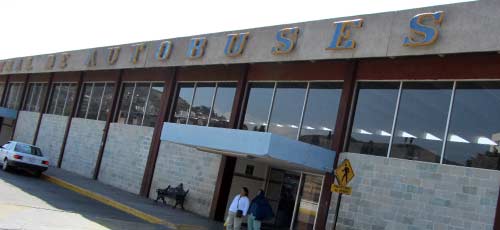 Guanajuato bus station, certainly not the most architectural stunning building
Therefore Guanajuato bus station was positioned close to the main highway which is a considerable distance from the city. Some tourists may feel disappointed on arrival as from the bus station none of Guanajuato's charming architecture can be seen and the outskirts of the city verge on ugly.
Guanajuato Bus Station to The City Centre
There are two options to reach the city centre from the from Guanajuato bus station; either by local bus or taxi. The taxi option cost between 50 – 60$ and before the journey confirm the price as Guanajuato's taxis do not use, or have meters. The journey takes approximately 15 min and passes through the city's tunnels to the east end of the city.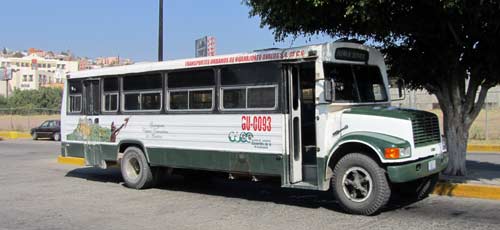 Guanajuato local bus services
The buses go throughout the day (every 15 minutes) to the city centre but terminate near the market not near the Basilica, the bus ticket costs 15$. As the bus station is so far from the city centre consider purchasing onward tickets to your next destination before before leaving Guanajuato's station. Guanajuato's bus station has connections to all of the major cities in Mexico.
Guanajuato bus station Facilities
The Guanajuato bus station itself is surprisingly clean and well maintained without the manic and hectic atmosphere of other big cities bus stations. Though Guanajuato is the state capital the level of personal risk from theft pickpockets which is commonly associated with coach terminals is considerably less than other stations. Guanajuato bus station could be almost considered safe and hassle free to arrive at or depart from.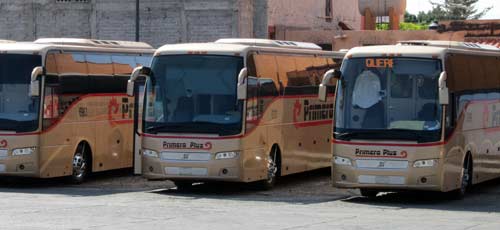 Guanajuato to Mexico City buses
Inside the Guanajuato bus station complex there are ticket sales desks from the companies which serve the city allowing onward tickets to be purchased. There are clean serviced toilets which have a small fee. Food options are slightly more limited as the small snack stall is overpriced. For long journeys consider purchasing food and drink before arriving at the bus station.
The whole bus station has a more relaxed atmosphere and passengers on not required to pass through security checks, x-ray scans or pat downs as with Mexico City. Each of the final destinations is clearly written above the coach bay and with the limited departures it would be highly unlikely to miss an arriving bus.
All buses to Mexico City start from Guanajuato so departure times are prompt. Luggage stored in the hold of the bus is identified by a split ticket and the porters and drivers are careful on arrival to prevent opportunistic theft but never pack valuables in hold luggage and always keep close.
Guanajuato Mexico Tourist Guide Navigation