Guanajuato Airport Mexico Guide
Guanajuato airport is a medium size airport, which serves the cities of Guanajuato and Leon.
The airport provides both international and domestic routes with scheduled flights to the USA and the short route to Mexico City.
This guide will provide an overview of Guanajuato airport, details of facilities and information of flights, which are relevant to visitors.
Guanajuato Airport Overview
Guanajuato airport is a small modern airport that serves the cities of Guanajuato and Leon. The airport consists on a single terminal building and was constructed near the town of Silao, halfway between Guanajuato and Leon. The name of Guanajuato airport is Del Bajío Airport and the three-letter code used for booking and identification is BJX.
Generally flying in and out of Guanajuato airport is straightforward and hassle free as with most small international airports. The facilities are as expected for a small airport and include: car hire, ATM/currency exchange and duty-free. In the airport there is Wi-Fi, operated by Telemex, but sadly it is not free.
The main advantage of flying into Guanajuato airport as an international arrival destination is that it eliminates the need and hassle of passing through Mexico City. The domestic route of Guanajuato to Mexico City only takes one hour, which is significantly less than the five-hour bus journey. The airport provides this Mexico City-Guanajuato route for the majority of its passengers.
Guanajuato Airport Transfers
Guanajuato airport lies 30km from the city and the only means of onward travel is by taxi. There is no direct public bus or train service between Guanajuato and the airport. For bus travel to Guanajuato, visitors must catch a bus to Silao and then to Guanajuato. It is much easier to hire a taxi from the kiosk in the arrivals lounge. A taxi will cost around $400.00 pesos and the journey takes 40 minutes.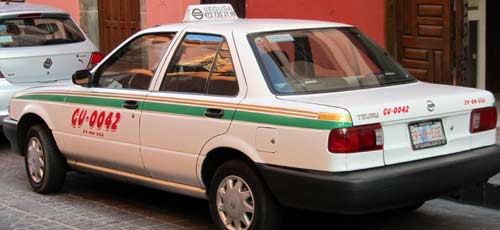 A Guanajuato Taxi
Rental cars can be hired from Guanajuato airport and all of the major companies are represented here including: Dollar, Europcar, Herts, National and Thrifty. It should be noted that Guanajuato is not a good destination to drive in. There is very limited parking, roads are narrow and the complex tunnel network makes the city feel like a maze.
For visitors who have late or early flights or business at the massive GM factory, there are two hotel options within the vicinity of the airport: the Holiday Inn Express or the San Javier. Generally most visitors stay in Guanajuato or Leon instead of Silao.
Guanajuato Airport Flights
Aeroméxico Connect operates the Guanajuato-Mexico City route (approximately $250.00 USD return). There are six daily services, with the first at 7 am and last at 7 pm and the flight time is just one hour. This flight eliminates the need for the 5-hour bus journey.
United Airlines provides a daily service to Los Angeles, American Airlines runs a service to Dallas and Delta provides a route to Atlanta. Guanajuato airport is far from being a major international airport and these routes to America are subject to seasonal change or cancellation.
Guanajuato Mexico Tourist Guide Navigation