El Pipila Statue, Guanajuato
The statue of El Pipila stands high above Guanajuato and commemorates the hero of the city. His brave actions achieved the first victory of the Mexican independence struggle and he has become a folk hero ever since.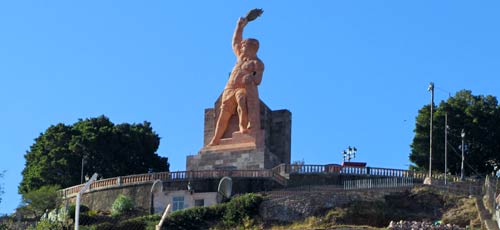 The statue of El Pipila high above Guanajuato
El Pipila Statue Tourist Information
Guanajuato rightfully stands the El Pipila Monument on the best vantage point of the city which provides tourists excellent panoramic views of the city. In front of the statue is a wide viewing platform which looks over the entire historic centre of Guanajuato.
The statue of El Pipila and the adjoining viewpoint is best visited just before sunset; as on arrival the city and hills opposite are bathed in golden sunlight.
As the sky darkens the lights of the city come on enhancing Guanajuato magical appeal, the Basilica which is prominently located in the centre of the city is illuminated spectacularly.
With the recent construction of the funicular the pain and effort to reach the viewpoint has all but been eliminated.
For those who wish to walk the path is well signed but is a steep walk. This can take a taxi to the statue but the funicular is the easiest option.
Commonly energetic visitors take the funicular up the hill and walk down. To read about the El Pipila story please click here.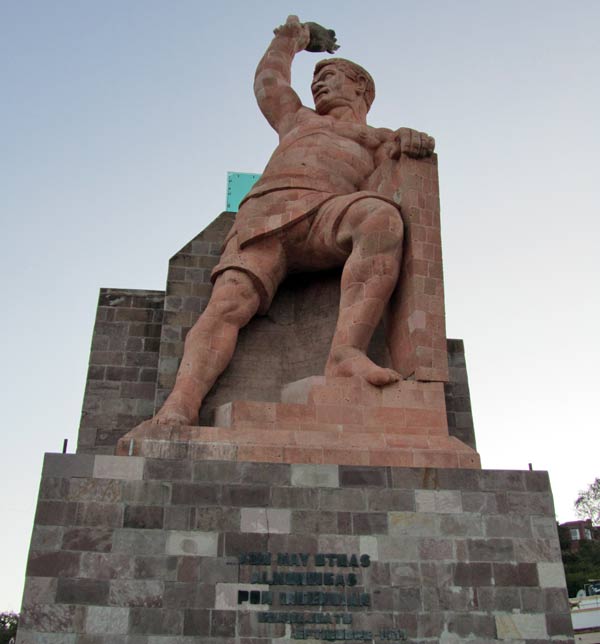 The statue of El Pipila, the hero of Guanajuato
Around the El Pipila statue and viewpoint are numerous gifts stalls few which are of good value and a selection of bog standard Mexican food restaurants.
The El Pipila statue is very popular with patriotic Mexican tourists and coach loads of college and school children arrive throughout the day. The entire area is very jovial with families and teenagers laughing and joking and the atmosphere of the viewpoint is relaxed and happy.
El Pipila Statue Information and History
The 20 meter statue of El Pipila was constructed in 1953 and is made out of pink sandstone. The monument was carved in the classical representation of El Pipila with the flame, which burnt the door, held in his right hand high above Guanajuato.
The bucket of tar and stone shield are attached to his back with El Pipila in a slightly hunched position. The half million pound dollar statue was funded by the state government in conjunction with the local city council and was built as a lasting monument to the city's hero.
The statue and viewing point are Guanajuato's second most visited tourist attraction after the mummies.
Guanajuato Mexico Tourist Guide Navigation