Teatro Juarez, Guanajuato
The Teatro Juarez is one of the most architectural stunning buildings in Guanajuato, the main entrance is straight from ancient Rome while the flamboyant interior is oriental inspired.
The Teatro Juarez is regarded as one of Mexico's premier theaters and by the standard of the magnificent exterior and beautiful interior rightly should be.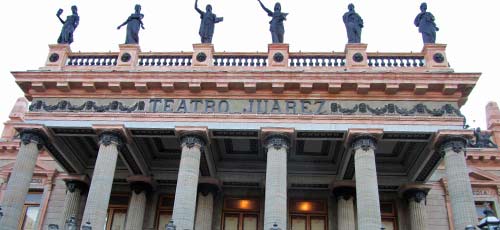 The ornate Teatro Juarez Theatre in Guanajuato
The initial construction of the Teatro Juarez was started in 1872 based upon the designed by architect José Noriega. The theatre follows the neoclassical styling of eclecticism which was extremely popular within Mexico at the end of the 19th century.
This design style was inspired by stories of ancient Rome and Greece and examples can be seen throughout the wondrous exterior.
The rows of steps which lead upto the grand entrance with the 12 stately pillars so closely resembles the Pantheon of Rome. While at the top of the roof stand 8 bronze statues from Greek mythology.
There is no simple other building similar to the Teatro Juarez in Guanajuato and its appeal and grandeur are unique. The interior of the theatre was based upon the common European design with four tiers of boxes and the stalls are based around a horseshoe shape. The maximum capacity of the theatre is 902 and visitors are greeted in the Art Nouveau smoking lounge.
History of the Teatro Juarez, Guanajuato
The theatre was inaugurated on 27 October 1903 by President Porfirio Diaz but the heyday of the Teatro Juarez was a few years later between 1907 and 1910 when patrons would travel from all over the state to view the latest performances.
During this period the Teatro Juarez was regarded as the most magnificent and prestigious theatre in the whole of Mexico.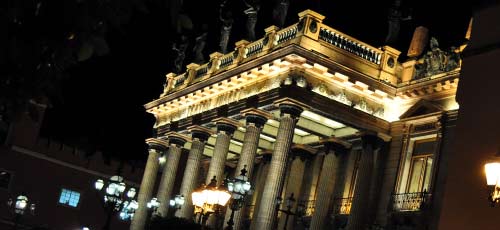 The Teatro Juarez is a hive of activity and stunningly illuminated at night
This all dramatically change during the Mexican Revolution when few performances were held with most people concerned by political tensions.
After the revolution the fortunes of the Teatro Juarez improved but not to the era before the revolution as cinema encroached on audiences. Since 1972 the Juarez Theater has been the focal point for the International Cervantes Festival.
Guanajuato Mexico Tourist Guide Navigation