Museo Soumaya Museum, Mexico City
One of the most visually striking buildings of Mexico City is the Museo Soumaya which over its six floors houses the largest private collection of art on public display in Mexico. The modern day art collection is owned by businessman Carlos Slim and includes over 66,000 piece spanning many different eras, styles and countries of origin.
The Museo Soumaya building itself is a stunning piece of modern architecture and will captivate those visitors not drawn by the extensive art collection held inside. The windowless structure is formed of gently curving edges and is a stark contrast to the historic and traditional centre of Mexico City.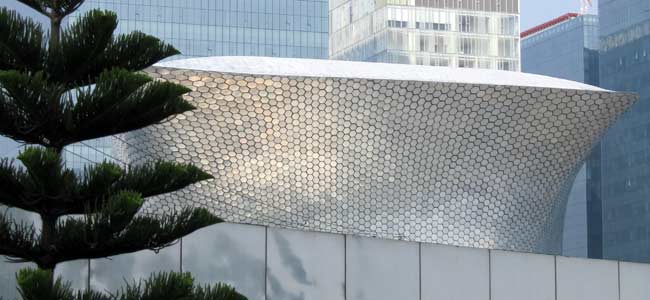 The ultra modern Museo Soumaya Museum in Mexico city
Tourist Guide Museo Soumaya
The Museo Soumaya is open every day between 10:30 and 18:30 and there is no admission fee. The museum is located in the Plaza Carso just off the Revolución Avenue with the junction to the Eje 10 south, it is approximately 15km to the south of the Zocalo and Mexico Cathedral. The best method to reach the Museo Soumaya is by taxi but journey times depend on the heavy traffic.
The nearest Metro (and train) station is Copilco (line 3) which is 1.8km away. Length of visit depends on level of interest in the art collections but most visitors stay for a couple of hours. There are good facilities within the Museo Soumaya including a coffee shop and restaurant.
Further information about the Museo Soumaya
The Museo Soumaya was opened in February 2011 and cost a staggering $800 million to build. This construction cost was actually larger than the total value of the entire art collection which is valued at $760 million. The designer was Carlos Slim's son-in-law, Fernando Romer. The entire structure is formed from 15,000 hexagonal plates that, due to the aluminium coating reflect the intense Mexican sun.
Mexico City Guides