Mexico City Taxi Guide
Mexico's taxis have in the past had a notorious reputation regarding passenger safety, robbery and worse planned violent thefts, but things have vastly improved in the last 10 years. This Mexico City taxi guide will provide advice and tips about how to travel safely.
Mexico City Taxi Introduction
It is much to easy to arrive in Mexico City extremely paranoid based upon news reports, rumours and tales of violence against taxi passengers and while most reports are unfounded some are true. On the flip side other tourists arrive both naive and careless when it comes to sensible precautions while travelling in the taxis of Mexico City. This guide has been written to describe sensible precautions to either reassure paranoid visitors or advise naive tourists.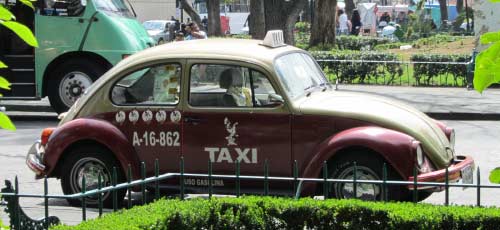 A Classic Mexico City Beetle Taxi
The first thing to start the guide is by mentioning that Mexico's taxis are some of the cheapest in the world, an hour and a half's journey of only a few miles on some of the continents busiest roads will only costs a couple of dollars/euros. If you are planning to do a lot of sightseeing in Mexico City rest assured you will be spending a lot of time in taxis, Mexico City is a vast city and the traffic is horrendous.
Many of Mexico City's taxis have been upgraded from the old pollution belching Beatles to an assortment of mid 90's cars. Taxis are distinctively painted red and gold and there are literally thousands of them patrolling the streets. Mexico City taxis can be neither hailed on the street or pre-booked by phone. Care must be employed while hailing taxis from the road and be extremely cautious of taxis waiting outside of restaurants, bars or nightclubs. There are a number clues to indicate that the taxi you're entering safe, so let this Mexico City taxi guide provide some advice.
Mexico City Taxi Precautions
All taxis that are correctly registered will have an identification sheet attached to one of the back windows of the taxis and this will have an image of the driver. If late at night never get into a taxi which is not displaying this card. Ensure that the picture of the driver matches the driver who is behind the wheel but do be warned some of the pictures are extremely old.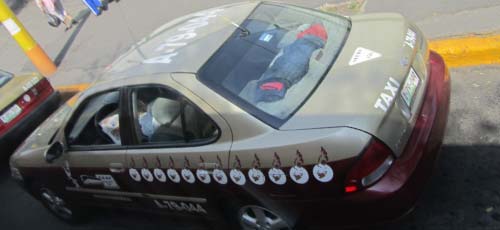 Every taxi has a unique identifier this should be, by law, on the number plate the roof and on the front dashboard. If the number has been scratched off or removed from the various positions again verge on the side of caution and refuse the ride. These numbers have been designed to be easily remembered and during taxi rides try to memorise in case issues.
Taxis arranged from inside the bus stations and from the airport are part of the union and therefore have to be registered so perfectly safe. These pre-booked union taxis, which are still the classic red and gold taxis, cost slightly more the ride is based on the zone of the destination and not the meter.
As Mexico City is so huge few taxi drivers know every hotel and location it is always advisable to have a business card of your hotel or hostel to provide clear instructions to the taxi driver. English is rarely spoken by taxi drivers so it is suggested to at least have a very basic understanding and vocabulary of Spanish. When loading luggage into Mexican taxis always valuables close to hand and never in the boot the taxi.
Mexico City Guides