Suggested Length of Stay Taxco Mexico
Taxco is a very charming town but as only a small town the actual number of sights to visit is limited. It is best to visit Taxco as part of a larger trip combining the capital and the southern pacific coast - Taxco lies directly between Mexico City and the greatly improved beach resort of Acapulco.
How Long for a visit to taxco Mexico?
The recommended number of days to spend in Taxco is 2 nights. This provides one full day and two half days for sightseeing. If rushed the whole of Taxco can be seen in just a few hours but this would involve difficult onward bus connections, it is our recommendation to spend at least one night in the town.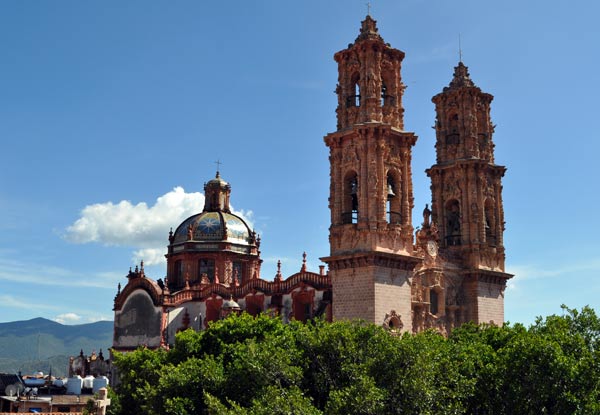 The stunning Santa Prisca church in Taxco
For the one full day join one of the organized tours to the natural phenomenon of the Caves of Cacahuamilpa. These tours leave Taxco early in morning and arrive back just after lunch and it is all too much of a rush to squeeze this in before the onward bus journeys either north or south. The two half days on the day of arrival and day of departure provide a pleasant time span to gently explore the town. Half the enjoyment of Taxco is just wandering and appreciating the colonial charm of the city.
Certain visitors may struggle with activities or sights to entertain themselves visits to Taxco that are much longer than 2 days. Saying that if you enjoy sitting watching the day slowly go by drinking an ice cold beer Taxco is perfectly suited for you.
Suggested Lenght of Holiday in Taxco Conclusion
In summary combine a visit to Taxco with a tour of the southern beaches and the capital. Plan to stay at a minimum of one night but two is more suitable. There are good bus services which connect Acapulco and Mexico City with Taxco.
Taxco Mexico Holiday Guide
www.GuanajuatoMexicoCity.com , with over 100 pages, if its not here it's probably not in central Mexico