Santa Prisca Church, Taxco
The church of Saint Prisca (El Templo de Santa Prisca ) is one of the most stunning churches in the region. The construction was a demonstration of wealth and power by an influential silver mining baron that ultimately bankrupted him, much to the benefit of today's visitors to Taxco.
Santa Prisca Church, Taxco Tourist Information
Old colonial mining towns can often be distinguished from other Mexican towns by their extravagant Churrigueresque styled churches. These churches were funded by the riches extracted from beneath the towns and as Taxco had the largest silver vein in region the exterior of the Santa Prisca is spectacular.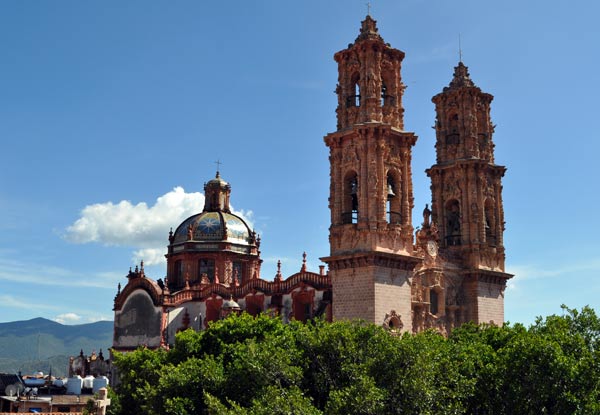 The stunning Santa Prisca church in Taxco
Mexico's silver veins were located within the hills which run the length of the country and for Taxco this resulted in a town with minimal suitable flat land for grand church construction. The El Templo de Santa Prisca is significantly narrower than many similar churches of the era and this extenuates the height of the two towers.
The Santa Prisca stands to the southern edge of the Plaza Borda, Taxco's main central square. The church was constructed between 1751 and 1758 funded by Jose de la Borda as a suitable venue for the priest Manuel de la Borda to practice his faith. Why should Manual require such a magnificent church- because he was the son of Jose Borda!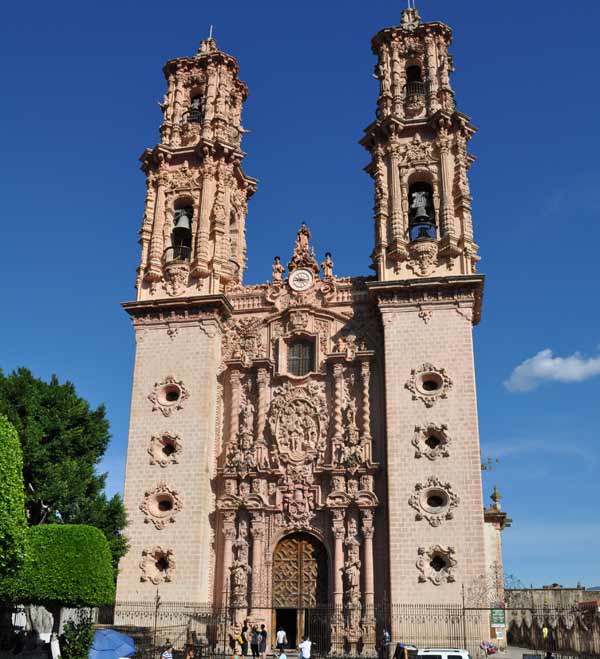 The orante entrance to the Santa Prisca Taxco
The El Templo de Santa Prisca follows the classical Latin cross plan with a large cupola (domed roof) lied with painted tiles. The painted tiles represent the legend of the church which occurred during its construction. The front façade is carved from pink sandstone which becomes more decorative towards the high reaches of the two bell towers. The main portal of the church has a representation Assumption of Mary.
As visitors enter the interior of the church views arises of either wonder or complete over powering. Every surface has intricate wood carving with gold leaf or large religious paints, there is no plain surface anywhere within the church.
Within the relatively small floor area of the church are nine alters and the main altarpiece is dedicated to the Immaculate Conception. Repeating symbolic patterns identified in the elaborate design include, shells (signifying the baptism of Jesus), bay leaves (representing the victory of faith) and grapes (symbolizing the blood of Christ).
These patterns include representations of the patron of the church Saint Prisca, San Sebastian. The paintings that hang from the walls are a series named "The Divine" by the artist Miguel Cabrera who was commissioned by José de la Borda. The elaborate designs could be considered over powering with no one central feature for the visitor to focus on but this is concept was one of the basis for the Churrigueresque style of design.
Taxco Mexico Holiday Guide
www.GuanajuatoMexicoCity.com , with over 100 pages, if its not here it's probably not in central Mexico