Plaza Borda Zocalo Taxco Mexico
The small tree lined plaza is a pleasant area to watch as the unhurried pace of Taxco slowly roll by and this does appear to be a common past time of many of the town's older inhabitants.
Taxco was constructed on the side of a hill and the Plaza Borda is the towns' largest flat area with the convergence of the town's small cobbled streets all leading off at steep inclines.
Plaza Borda Zocalo, Taxco Tourist Information
The Plaza was named after the Taxco's most important resident José de la Borda who made and lost to fortunes his quest for silver and to construct the spectacular church of Santa Prisca. The plaza is often referred to as the Zocalo, this the name given to many Mexican towns central squares named after the massive square in Mexico City.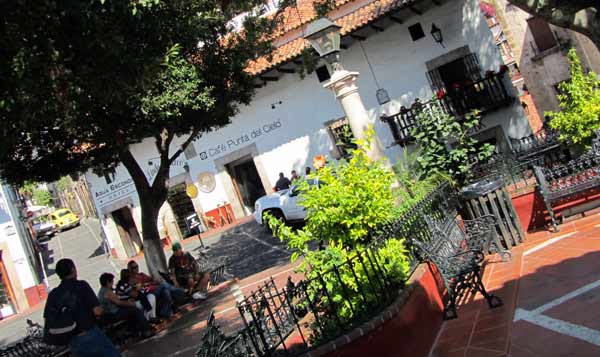 The pleasant Plaza Borda, Zocalo in Taxco
The street of Cuauhtémoc, which heads in a south western direction, contains many of the Taxco's best restaurants and bars. This will be the street frequented by visitors who wish to spend most of their visit drink socializing or dancing.
The narrow street of Del Arco which runs along the right side of the Santa Prisca heads to the popular market and shopping area of Taxco.
The third main street leading from the Plaza Borda is the Agustín de Tolsa which heads towards the abandoned monastery of San Bernadino and the disturbing holy week statues of Jesus.
Taxco Mexico Holiday Guide
www.GuanajuatoMexicoCity.com , with over 100 pages, if its not here it's probably not in central Mexico